(Canh Chua Nấu Nấm) –
Mushrooms Sour Soup
can be a great choice for your meal even if you are not vegetarian.
The sweetness and crunchiness of mushrooms with the light sourness of pineapples, tomatoes and the enchanting smell of cilantro creates such an amazing recipe among many Vietnamese Cuisine.
Ingredients
- 200g of jelly ear mushroom or shiitake
- 1 slice of pineapple
- 1 tomato
- Some Night-scented Lily or giant upright elephant ear leaves stem (aka Ráy or Dọc Mùng in Asia)
- Spring onions, cilantro, dried onions
- Salt, sugar, fish sauce (if needed to enhance the flavour), Cashew Nut Oil.
Process
- Wash the mushrooms, cut off the roots, and soak in light salty water in 15 minutes. Then take it out to wash again, let it dry naturally.
- Wash and slice the tomato. Tear the Night-scented Lily, remove the skin, and cut it sideway. Crush the Night-scented Lily with a little bit of salt then wash it so you will not get itchy.
- Wash and mince spring onions with cilantro.
- Wash, slice and peel off the skin of the pineapple.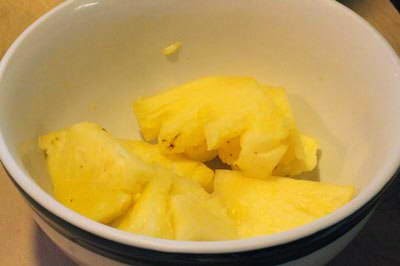 - Heat up with some Cashew Nut Oil, fry the onions, add the tomato in and stir fry for 2 minutes then add the pineapple in too.
- Add tomato, pineapple with a big bowl of cold water into the stove, boil it.
- After 8 – 10 minutes, add the mushrooms in to boil it. Here, you can adjust the taste with spices suitable for you and family. We are almost done with one of Vietnamese Recipes Vegetarian, keep up the good work and follow the instruction to finish the dish.
- Add the Night-scented Lily in and boil it.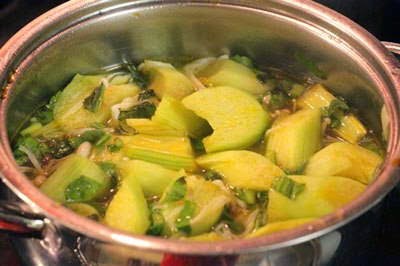 - Add and sprinkle the spring onions, cilantro into the stove then turn off the heat.
- Finally, Mushrooms Sour Soup is ready to be served. Eating with boiled rice for the main meals is a great choice.