(Chè Bưởi) - Pomelo Sweet Soup is one of delicious Vietnamese Cuisine. A little crispy from pomelo meat is combined with mung bean and coconut milk will create a spectacular dessert for all members in family.
In this freaking hot weather like these days, enjoy one cold bowl of Pomelo Sweet Soup can make you will more fresh and comfortable.
Ingredients
- 2 pomelo fruits
- Mung bean (no cover): 200g
- Sugar: ½ bowl
- Tapioca starch: 1 bowl
- Pomelo attar
- Salt
- Alum: 5g
- Coconut milk: 200ml
- Salt: 1 teaspoon
- Sugar: 2 teaspoons
- Corn starch: 1 teaspoons
Process
- Peel off the green cover of pomelos; keep the white one.
- Use your hand to pull out the white cover and slice into short pieces.
- Mix white part of pomelo with 6 tablespoons salt and press gently. Next, add more 2 bowls warm water and soak in 5 – 6 hours.
- After that, wash many times in fresh water to reduce the salty from pomelo.
- Grind will alum, add more 2 bowls water and cook until it is melted. Then, add more sliced pomelo meat into pot and soak about 20 minutes. Next, wash it many times carefully. You should taste pomelo meat in this step.
- Press all water out of pomelo meat. Slice into small cubes.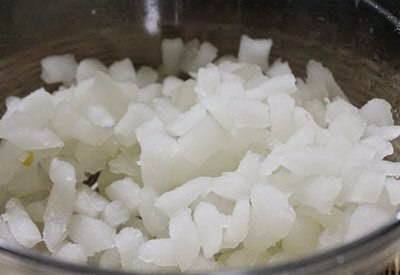 - Mix sliced pomelo meat with ¼ bowl sugar and wait in 5 – 7 hours.
- Next, roll them through tapioca starch. Make sure this cover can cover all faces of pomelo meat. Boil water and pour all sliced pomelo meat into pot. Cook until they are floated on water and use spoon to stir gently.
- Cook until sliced pomelo meat is clear. Put them out and soak immediately in cold water. Wait to get dry.
- Pour coconut milk into pot, cook in small heat and do not stir when cooking. Add ½ bowl tapioca starch and cook until it is thicker.
- Soak mung bean in water about 1 hour and wait to get dry.
- Bring mung bean to steam until it is soft.
- Next, cook 2 bowls water with the left sugar. When it boils, add more sliced pomelo meat + mixture ½ bowl left tapioca starch with ¼ bowl water. Stir well until this dessert is thicker.
- Continue to pour more mung bean and stir well with small heat. Season again with sugar to suit your flavor and turn off the heat, this time you should add pomelo attar.
- Finally, Pomelo Sweet Soup is finished. Scoop into small bowls, add more grinded ice and pour a little coconut milk on face of dish and you can enjoy already.