(Canh Sườn Non nấu Khoai Lang) - Pork Chop Soup with Sweet Potato comes from many stunning Vietnamese Cuisine is my favorite choice.
The amazing combination between pork chop and pumpkin will create a fantastic flavor in your mouth when chewing. This soup also is really fresh in hot days.
Ingredients
- 300g pork chop
- 300g Sweet Potato
- 150g green beans
- Spring onion, parsley, Magi's stuff, salt, pepper, sugar
Process
- Chop pork meat into small pieces, clean well and bring to cook with water (3 – 4 bowls). You can add a little salt into pot.
- Peel off the cover of Sweet Potato, clean and slice into square shapes. Clean well green beans, wait to get dry.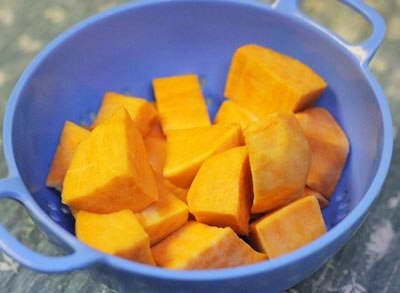 - After cooking pork broth about 30 – 45 minutes, add more sliced pumpkin into pot.
- Season again to suit your flavor, cook until pumpkin and pork chop are soft. Then, add more green beans and cook more 5 – 10 minutes.
- Turn off the heat; add more sliced spring onion and parsley on face of soup. Scoop Pork Chop Soup with Sweet Potato into big bowl and bring to serve with boiled rice is perfect.