(Sườn Cốt Lết Rim Mặn Ngọt) -
Pork Chop with Salt and Sweet Sauce
eating this dish with boiled rice or bread as I told is all delicious.
Ingredients
- Pork chop: 2 – 3 slices
- Salt, sugar, soybean sauce, fish sauce, chili powder
- Garlic, scallion.
Process
- Clean pork chop with water added a little salt. Next, marinate with 1 teaspoon salt + a little pepper and wait about 1 – 2 hours.
- Put pan on cooking stove, pour 1 tablespoon oil and wait to hot, next add minced garlic and fry until it is fragrant. Then, put pork chop into pan and fry until their faces turn yellow.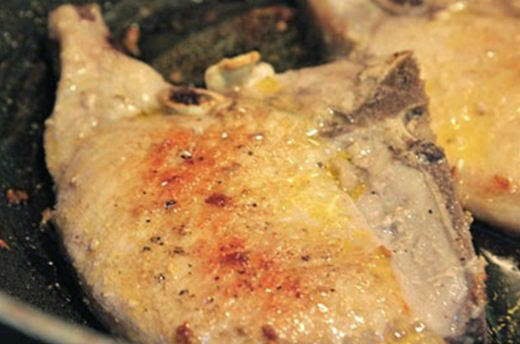 - Add more 2 tablespoon fish sauce + 1 teaspoon soybean sauce + 1 tablespoon sugar + 2 teaspoons chili powder (you can add more if you love spicy) + 1 - 2 tablespoons water into pan, cover the pan and cook.
- When meat is soft and sauce becomes stick, turn off the heat.
- Finally, Pork Chop with Salt and Sweet Sauce is ready to serve. Before using, sprinkle sliced scallion on face.