(Bánh canh giò heo) - Pork Leg Rice Spaghetti Soup is really easy to eat. Eating when it is still hot will bring you a good feeling for staring new day.
Ingredients
- Rice spaghetti (Banh Canh): 1kg
- Pork bones: 1kg
- Pork legs (no bones): 1kg
- Vietnamese mushroom: 200gr
- 1 Onion, Carrot and white radish
- Seasoning: dried shallot, spring onion, cilantro, 5 cloves of garlic, fish sauce, salt, sugar and pepper.
Process
- Rub salt to pork bones, then clean and scald into hot water about 15 minutes.
- Clean pork legs in water with a little salt. Then scald into hot water about 15 minutes.
- Mince garlic, slice onion and spring onion. Chop off root of mushroom, soak into water about 15 minutes then let them out, wait to dry. Peel off the cover of carrot and radish, next cut them into medium pieces (2cm).
- Making broth: Boil 5 liter water about 15 minutes then put pork legs and bones into pot with medium. I suggest, do not cover pot. With one of stunning Vietnamese Pork Recipes, this is the most important step of
Pork Legs Rice Spaghetti Soup
. Cook about 60 – 70 minutes, add more sliced carrot and radish into pot. And cook more 30 minutes or until carrot and radish become soft.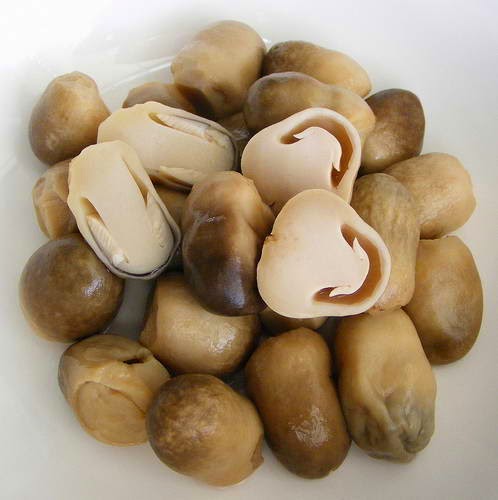 - Fry mushroom and garlic about 5 minutes and then pour them all into broth. Cook more 15 minutes. Then turn off the heat. Let pork legs out the broth. Season for broth: Pepper, salt, sugar, monosodium till it is suit with your taste. Then, you add sliced onion and dried shallot into broth.
- Boil water; add rice spaghetti into pot about 5 minutes to clean. Next, slice pork legs to medium pieces.
- You should use when Pork Legs Rice Spaghetti Soup is hot. It will create a stunning flavor for you.