(Chè Đậu Đỏ Cốt Dừa) - Having spent all day outside, under the unbearable sun? No worries as Tapioca and Coconut Milk will cool off your body temperature right away.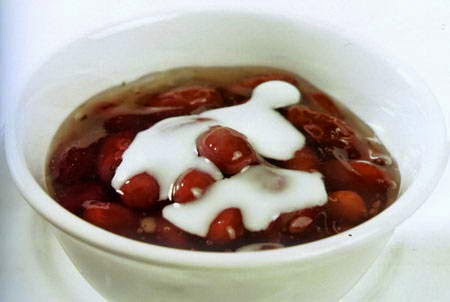 Ingredients
- Red bean: 200g
- Rapioca (it looks like small pearl beads): 20g
- Coconut milk: 150ml
- Salt: ½ spoon
- Sugar: 1 spoon
- Corn powder (or flour): 1 spoon
- Roasted peanuts, mash it into small pieces (as much as you like)
Processes
- Red bean need to be screened first to pick out the floaters. Soak it in cold water let it rest overnight.
- Add red bean into a pot, pour water to cover all beans. Cook until beans become soft. Add more sugar and cook with small heat.
- Tapioca is doused in cold water, soak from 15 – 20 mins until it is all expanded.
- Pour out the water from the tapioca. Add the tapioca slowly into the sweet soup. Use the tablespoon to stir it gently. When you see the tapioca float on the surface means it is cooked. Now you can adjust the sweetness according to your taste.
- Add coconut milk, sugar & corn powder (or flour) into the sweet soup. Cook with small heat until the coconut milk looks gelatinous. Finish this step and we are almost complete one dish in many stunning Vietnamese Dessert Recipes.
- When serving Tapioca and Coconut Milk, you need to ladled it into a glass with coconut milk on top, add some ice cubes & roasted peanuts on the surface.