(Canh Củ Dền) - Red Beetroot Soup comes from many healthy Vietnamese Cuisine. Beside the delicious flavor, this soup also contains many benefits for your body.
Ingredients
- 1 red beetroot (medium size)
- 200gr grinded pork
- 150gr Napa cabbage
- Salt, pepper, coriander, purple onion, sugar.
Process
- Marinate grinded pork with 1 teaspoon salt, a little pepper and mix well. Wait in 15 minutes.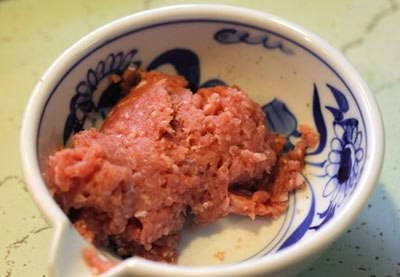 - Peel off the cover of red beetroot. Clean and slice into small cubes.
- Clean Napa cabbage and slice small.
- Heat the oil, add minced purple onion into pot and fry until it is fragrant. Next, add more grinded pork in step 1 and fry in 3 – 4 minutes.
- Then, pour 3 – 4 bowls water into pot, continue to cook until it boils. Sometime use spoon to scoop away dirty bubble on face of broth.
- Pour more sliced red beetroot into pot and cook in small heat.
- When red beetroot is soft, add more sliced Napa cabbage and cook in 2 – 3 minutes. Season with salt, pepper, and sugar to suit your flavor, but I suggest you should not season with sugar because the sweetness from red beetroot is enough. Turn off the heat.
- Finally, Red Beetroot Soup is ready to serve.