(Chè Trôi Nước Khoai Tím) - Rice Ball with Purple Yam in Ginger Syrup - here will be one of my dishes for Tet Holidays.
One hot sweet soup with some sliced ginger and beautiful pruple color from purple yam will not only create a delicious dish for your family, but also is really eye-catching.
Ingredients
- 2 – 3 purple yam
- Sticky rice flour: 200gr
- Brown sugar: ¼ bowl
- 1 clove ginger, peele and sliced thinly
- Roasted sesame
For filling
- Mung bean: 200gr
- Salt: ½ teaspoon
- White sugar: 1 tablespoon
- Purple onion.
For coconut syrup
- Coconut milk: 200ml
- Salt: ½ teaspoon
- Sugar: 1 teaspoon
- Tapioca starch: 1 teaspoon
Process
- Clean purple yam carefully to reduce all dirty around cover. Bring to steam and crush well.
- Mix crushed purple yam (in step 1) with sticky rice flour. Next, pour slowly 50 – 70 ml warm water into this mixture (60 degree)
- When pouring water, use your hands to mix until this mixture is soft and smooth. Cover it in 30 minutes. Depend on sticky rice flour, you can use more or less water.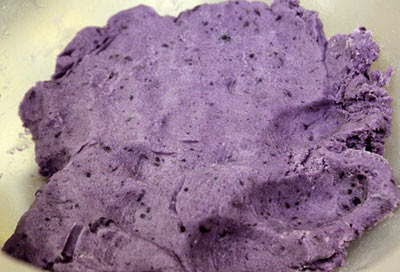 - Clean mung bean in many times. Bring to steam and grind well.
- Heat 2 teaspoons oil, add more sliced purple onion and fry until it is fragrant. Next, add grinded mung bean + salt + sugar into pan and use wood spoon to fry well until mung bean is dried.
- Turn off the heat, wait to mung bean (in step 5) get cool. Use your hands to separate into small balls.
- Use your hand to separate the mixture of purple yam (in step 3) into small balls. Press thin and add mung bean ball (in step 6) in the center, cover well. Continue until all mung bean and purple yam balls are out.
- Boil the water, next add one by one ball (in step 7) into pot and cook until they float on face of water. Pick them into basket.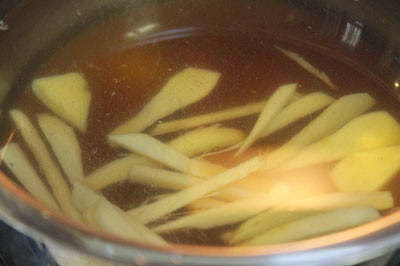 - Mix brown sugar + 2 bowl cold water + sliced ginger and bring to boil.
- Cook until sugar is melted, put one by one ball into pot, cook with small heat in 20 – 30 minutes. Turn off the heat. Making coconut syrup: Pour coconut milk + salt + sugar + tapioca starch into small pot, cook with medium heat. Do not stop stirring when cooking. When this mixture becomes thick, turn off the heat.
- Scoop
Rice Ball with Purple Yam in Ginger Syrup
into bowl, sprinkle a little roasted sesame on face and pour a little coconut syrup and you can eat already.