(Trứng Cuộn Hấp) - Rolled Egg in Three Colors is not only really eye-catching, but also really delicious.
Ingredients
- 3 chicken eggs
- 200g chopped pork (Giò sống)
- Some jelly ear mushrooms
- ½ carrot
- Spring onion, salt, pepper, Maggie Seasoning Powder, fish sauce, purple onion
Process
- Stir eggs, add more sliced purple onion, 1 teaspoon salt, a little fish sauce, 2 teaspoons water, pepper into mixture egg.
- Soak jelly ear mushrooms, cut off the roots, clean well and slice small. Mix jelly ear mushrooms, chopped pork, sliced purple onion, a little pepper, ½ teaspoon Maggie Seasoning Powder, ½ teaspoon salt and wait for 10 minutes.
-: Peel off the cover of carrot, clean and slice thinly. Clean spring onion and slice small.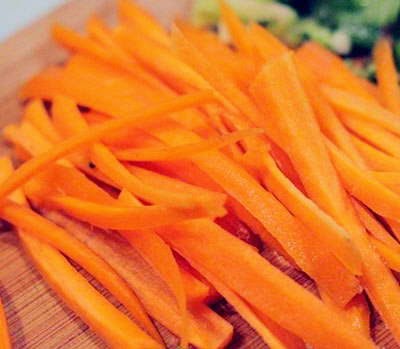 - Heat the oil, fry sliced purple onion until it is fragrant. Bring mixture egg to fry thinly. Next, add spring onion on top. You just need to fry until egg turns yellow. Do not fry too dry.
- Wait until fried egg to reduce heat, spread chopped pork gently on top.
- Add more sliced carrot on top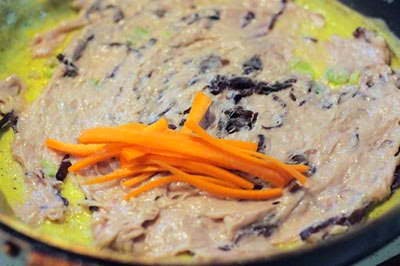 - Use your hand to roll it carefully, put on plate and bring to steam in 20 – 25 minutes.
- Wait to reduce heat, slice into circle shapes. Arrange on plate, serve with steamed rice and chili sauce is awesome.
Hope you will satisfy with Rolled Egg in Three Colors and Good luck for your cooking.