(Bò Cuộn Tôm Nướng) - Rolled Grilled Beef with Tiger Shrimps. Have you ever tried to combine beef and tiger shrimps together before?
Ingredients
- Beef: 300g
- Tiger prawns: 250g
- Salt, oyster oil, Maggie Season Powder, oil, spring onion, pepper
Process
- Clean beef and put in fridge in 5 minutes and then bring to slice thinly (0,5cm). Marinate with 2 teaspoons oil, a little pepper, 1 teaspoon oyster oil, 1 teaspoon sugar, ½ teaspoon Maggie Seasoning Powder, mix and wait in 30 minutes.
- Peel off the cover of tiger shrimps, pull out the black lines in their backs, clean, wait to dry, marinate with a little salt, pepper.
- Spread each sliced beef on wood board.
- Put on tiger shrimp and use your hands to roll carefully. Repeat this process until your meat and shrimps are finished.
- Slice spring onion and then add more a little oil, bring to cook in microwave in 30 seconds.
- Put banana leaves on cob before bring rolls to grill. Next, add one by one roll on banana leaves and grill until it is cooked.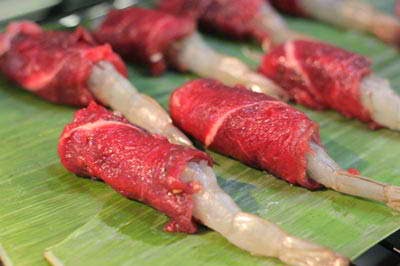 - Sometime, when grilling, spread mixture spring onion plus oil on face of rolls, to make sure it will be not dried after grilled.
- Serve Rolled Grilled Beef with Tiger Shrimps with chili sauce and cucumber is awesome.