(Ba Rọi Cuộn Thịt Gà) - Rolled Pork with Chicken Meat is not difficult as you thought. All you need is basic cooking skills. Moreover, you can make this dish and bring to work or school for lunch meal. It contains enough energy for the left working day.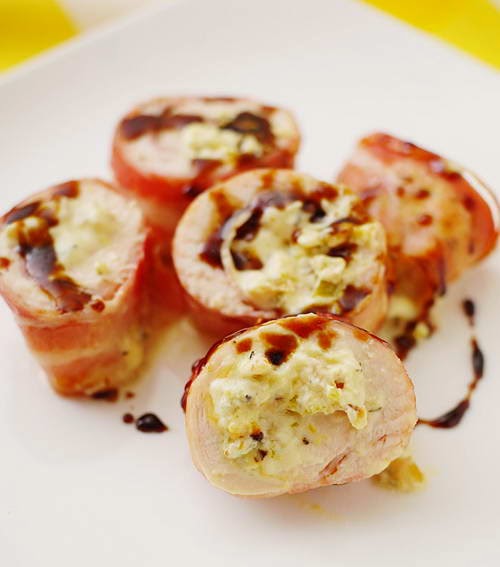 Ingredients
- 200gr chicken meat (breast part), cleaned and sliced small
- 200gr half lean half fat pork meat, cleaned and sliced into thin and long pieces.
- 60gr cheese cream
- Spices: pepper, Maggi's stuff, fish sauce
- Nylon bag
- Ketchup or Chili Sauce.
Process
- Spread nylon bag on plate. Next, spread half lean and half fat pork meat on nylon. Then, add more chicken meat and cheese cream.
- Add ½ teaspoon pepper, 1 teaspoon fish sauce and 1 teaspoon maggi's stuff on chicken meat and roll it firmly. Wait about 15 – 20 minutes.
- Open the nylon bag; bring to grill at 180 degree in 20 minutes.
- After that, cut rolls into circle shapes.
- Finally, your dish is ready to serve. Eating when Rolled Pork with Chicken Meat is hot will bring a stunning flavor in your mouth with ketchup or chili sauce.