(Cơm Nắm Vừng) - Rolled Rice with Roasted Sesame is not only delicious, but also is really easy to bring with you guys when hang out.
We use many ingredients inside to apply enough energy for all members in family when playing outside.
Ingredients
- Medium fresh shrimps: 200 g
- 8 dried sea weed leaves
- Boiled Rice: 1 bowl (depend how many persons in your family)
- Pork ham: 100gr
- Carrot: 50gr
- Roasted sesame: 50gr
- Soya sauce: 30ml
- Cooking wine: 30ml
Process
- Peel off the cover of carrot. Clean and slice into small cubes. Do the same process with pork ham. Peel off the cover of shrimps; pull out the black lines on their backs. Clean carefully.
- Boil shrimp in water mixed with cooking wine until they are cooked.
- Heat the oil, add sliced carrot and pork ham into pan and fry quickly in 5 – 7 minutes.
- Next, add more boiled shrimps into pan and fry in 2 – 3 minutes and turn off the heat.
- Then, add more boiled rice into pan and mix well.
- Pour into bowl, season with 1 – 2 teaspoons soya sauce. If you love sesame oil, you can add more 1 teaspoon of it before mix well.
- Separate mixture rice into small balls and firmly press into long peaces.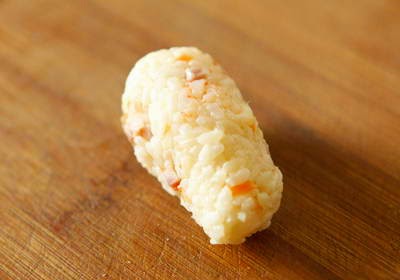 - Cut dried sea weed into long pieces. And roll one by one these leaves around small rice balls. Then, roll through roasted sesame.
- Finally, Rolled Rice with Roasted Sesame is ready to bring with your party.