(Nộm Chân Gà Ngó Sen) - Salad Lotus Roots with Chicken Legs. Using with sweet and sour sauce will bring a stunning flavor in your mouth.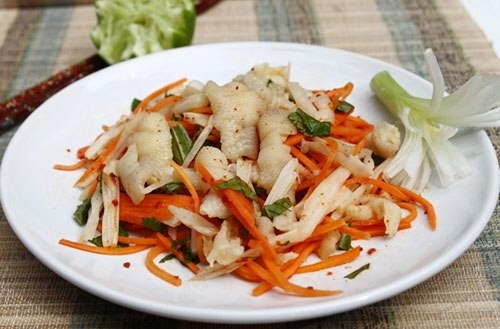 You can eat Salad Lotus Roots with Chicken Legs as a snack meal when watching tivi with your friends and family. It can help relationship between you and them getting closer.
Ingredients
- 4 – 5 chicken legs
- 150 lotus roots
- 1 carrot
- Fish sauce, sugar, salt, vinegar, lemon, garlic, chili
- Ginger, peeled and minced
- Vietnamese mint, basil.
Process
- Use your hands to press chicken legs with salt and minced ginger. Next, clean in warm water in 2 – 3 times.
- Boil chicken and soak in hot water in 10 minutes. Do not cover the pot when boiling.
- After boiled chicken legs, soak them into cold water added a little vinegar. With this step, it can help legs more crispy and delicious.
- Use a knife to cut aross legs to throw away bones.
- Tear lotus roots into long pieces. Soak into water added a little vinegar + sugar + salt.
- Peel off the cover of carrot, slice into long and thin pieces. Mix with ½ teaspoon salt + 1 teaspoon vinegar + 1 teaspoon sugar.
- Clean and slice small Vietnamese Mint and basil.
- Making Dipping Sauce: Mince garlic and chili. Add 2 tablespoons fish sauce + 2 tablespoons sugar + 2 tablespoons water, stir well. Next, add more garlic, chili and 2 – 3 teaspoons lemon juice into mixture. Season to suit your flavor. It requires a little sweet and sour from this sauce.
- Use your hands to press out all water from lotus roots and carrot (in step 5 and 6). Mix them well with chicken legs + sliced vietnamese mint + basil + dipping sauce.
- Finally, your dish is ready bring to serve. You can use Salad Lotus Roots with Chicken Legs as a snack or eating with Fried Shrimp Glutinous Rice Cakes (Bánh Phồng Tôm) is all delicious.