(Salad Khoai Tây) - Salad with Potato. The presentation of this dish like a Bay Laurel Circle. It will make your Christmas Night more amazing.
Ingredients
- 1 Carrot
- 100gr pork ham
- 1 potato
- ½ broccoli vegetables
- 5gr dill
- Spices: salt, pepper, mayonnaise.
Process
- Slice pork ham into small cubes.
- Clean potatos, bring to steam. Then, wait to get cool, peel off the cover and grind well. You can use microwave to steam potato to save your time.
- Peel off the cover of carrot, soak into hot water abut 4 – 5 minutes. Next, slice ½ into small cubes and ½ left, use star mould to cut into small stars to decorate. Mix well ½ sliced carrot + grinded potato + sliced pork ham + 1 teaspoon salt + pepper + 1 tablespoon mayonnaise sauce together, wait about 30 – 45 minutes.
- Clean broccoli carefullly in water added a little salt. Chut into short pieces. Then, soak into hot water about 2 – 3 minutes. Then, wash immediately with cold water to keep the green of this vegetable longer. Wait to dry.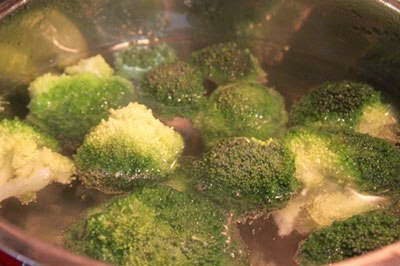 - Pour the mixture (in step 3) on plate, set into circle like photo below.
- Add broccoli on face of mixture. Decorate with some dill and ½ left star carrot.
- Finally, your Salad with Potato is ready to serve.