(Bánh Dày Nhân Mặn) - Salty Glutinous Rice Cake is one of traditional dishes on Tet Holiday of Vietnamese people.
Salty Glutinous Rice Cake is the great combination between sticky rice, mung bean and pork meat. I bet you will want more and more when eating.
Ingredients
- 250gr sticky rice flour
- 1 tablespoon rice flour
- ½ teaspoon salt
- 150ml warm water (60 degree)
* For filling:
- 250ge grinded pork
- Pepper, salt, Maggi's stuff, purple onion
- ½ bowl mung bean (no cover)
- Banana leaves, vegetable oil.
Process
- Clean mung bean in 2 – 3 times. Next, soak into warm water about 1 hour. Bring to steam and grind well.
- Separate mung bean into 2 parts. One part, you use to fry with pork meat. One left part, use your hand to roll into big ball.
- Put grinded pork into bowl, marinate with a little salt, pepper, sliced purple onion and wait about 30 minutes. Fry sliced purple onion with hot oil until it is fragrant. Next, pour grinded pork into pan and fry quickly about 5 – 7 minutes.
- Then, add more ½ grinded mung bean into pan, season to suit your flavor and fry more 5 – 10 minutes. Turn off the heat, sprinkle a little pepper and wait to get cool.
- Separate 15 small balls for this mixture. Continue until you finish 15 balls for fillings.
- Mix sticky rice flour + rice flour + salt together on big bowl. Pour slowly warm water into bowl and use your hand to mix well until it becomes soft and smooth. Next, use nylon bag covers this mixture carefully and wait about 30 minutes. You can add more water if it is still too dry.
- Add a little oil on your hands, separate flour mixture into small balls. Next, press thinly.
- Next, add small ball on the center and cover it carefully. Continue until you finish 15 balls.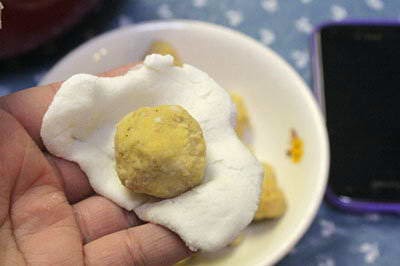 - Add banana leaves added oil on face in the bottom of steaming stove. Put one by one ball into steaming stove. Do not put them closely. They will blooming and will be stuck together. Steam about 20 minutes, cakes will be cooked.
- The left part of grinded mung bean cut into thin slices and then press well. Roll steamed cakes through it. Make sure it can cover around steamed cakes.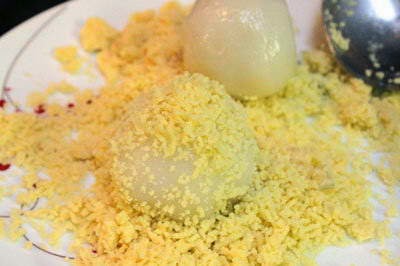 -- If you love grinded mung bean, you can add more on face when eating. Hope you love Salty Glutinous Rice Cake and Good Luck for your Cooking.