(Bánh ướt thịt nướng) - Why don't you choose Steamed Rice Pancake with Grilled Pork for your weekend like mine?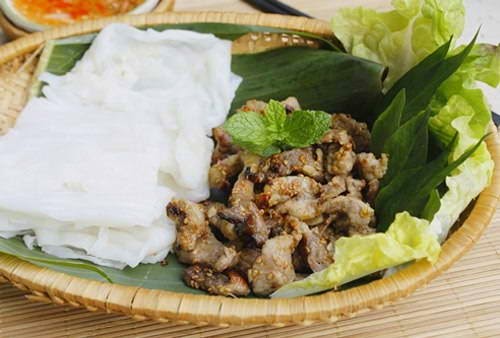 Spread one leave of steamed rice pancake, add vegetables, grilled pork, wrap and roll it gently and carefully. Serving with dipping sauce is spectacular.
Ingredients
- Pork meat: 300g (it is better when you use the part has a little grease from pig)
- Steamed rice pancake (Bánh ướt) – Buy at Vietnamese markets
- Vegetables: salad, Vietnamese mint herb, basil leaves, cinnamon leaves
- Dipping sauce: fish sauce, chili, honey, sesame oil, salt
- Sesame: 1 tablespoon white
- Purple onion, garlic, lime
Process
- Clean pork meat well, wait to dry and slice thinly. Marinate with sliced purple onion, minced garlic, 1 tablespoon honey, 1 teaspoon salt, 1 teaspoon fish sauce, a little pepper, white sesame, sesame oil and mix well. Wait from 3 – 4 hours.
- Bring to grill on fired coal or in grilling machine (190 degree in 20 – 30 minutes). Sometime, use small brush to spread a little broth from meat on their faces to make sure it will not be dried after grilled.
- Clean well all vegetables, put on basket and wait to dry.
- Making dipping sauce: cut in half lime, press to get water from it, mix with minced garlic and chili. Then, cook ½ bowl water + ½ bowl sugar until sugar is melted. Wait to get cold and add more ¼ bow fish sauce. Stir well and season to suit your flavor, and add more mixture lime water + minced chili + garlic. Put in fridge to store.
- Finally, you can serve it for your family right now.