(Bò kho) - Stewed Beef with tomato. Vietnamese also use this dish for breakfast, they eat with noodles, bread or rice.
To cook Stewed Beef with tomato, you must spend a lot of time to stew beef, because it is more delicious when eating a soft beef than a hard beef.
Ingredients
- Beef: 1kg (delicious and more specifically meat encrusted)
- Powdered beef stew: 30g (you can buy it in Vietnam market)
- Tomatoes special: 50-70g (tomato paste)
- 5-7 cloves of lemongrass
- 3 Siamese coconut fruits
- 1 Big garlic
- Purple onion/shallot
- 1 small clove ginger
- 3 carrots, 1 large white radish (or 2 small bulbs)
- Bean sprouts, herbs ...
- Spices: sugar, salt, pepper, monosodium, chili ...
- Corn starch
Process
* Prepare
- Crush beef with salt, ginger wine. Then, washed, sliced ​​into pieces as you want
- Clean, peel off the cover and cut White radish ​​carrots
- Peeled ginger, and finely grinding
- Mince garlic, leave 2 cloves garlic
- Peel chopped purple onion
- 15g beef powder soaked with 1/2-cup water
- Barrage lemongrass
* Cooking
- Marinate beef: 1.5 teaspoon powder, 1 teaspoon the salt, 1 teaspoon sugar, 4 tablespoon oil 15g beef stew powder, marinated onion, garlic, and ginger chopped for 1 hour
- Fry 2 minced cloves and lemongrass for fragrant, fried beef until cooked, poured cup of soaked powder beef stew, then fried until absorb beef.
- Add Siamese coconut, tomato into pot boiled and skim off foam, covered them, until the meat is soft. Then, add coconut water, carrots, and radishes taste with 2 teaspoon seasonings, 2 teaspoon salt, and 2 teaspoon sugar, when everything are soft, taste again to suit your flavor. Finally, add Corn starch mixed with the broth until thick enough.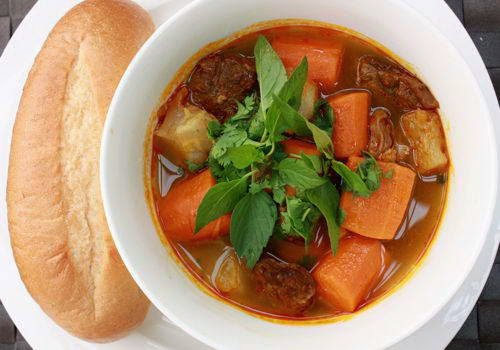 - Stewed Beef with Tomato, Radish and Lemongrass can be served with noodles or use with bread or hot rice is also very good.