(Măng Khô Hầm Xương) - Stewed Dried Bamboo Shoot with Pork Bone is soaking and boiling dried bamboo shoot.
It originally comes from many stunning Vietnamese Cuisine. However, you will create a stunning dish for your family and friends.
Ingredients
- Dried bamboo shoot: 200gr
- Pork bone (have bone and meat): 400gr – You can use pork chop if you want
- Fish sauce, salt, Maggi's stuff, pepper
- Garlic, purple onion, peeled and minced
- Scallion, coriander.
Process
- Cut the old part of dried bamboo shoot, tear into long pieces. Soak into cold water about 1 day. Sometime you should change water (At least 3 times) to make sure bamboo shoot will less sour and help broth more clear.
- Then, boil water, add all bamboo shoot into pot and boil about 30 minutes. Next, pour out water and wait to dry.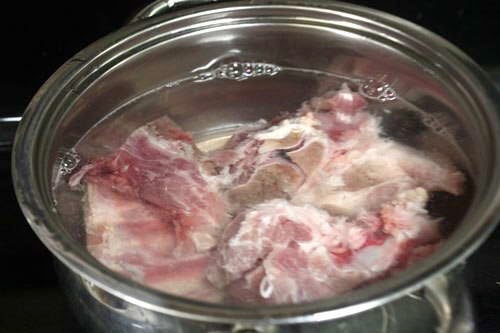 - Clean pork bone carefully with water added a little salt. Then, soak into hot water about 2 minutes to clean again. Next, bring to boil quickly for 5 minutes with hot water. Do not use the broth in this step.
- Add 2 teaspoons oil into pot, wait to hot, add more minced garlic + purple onion and fry until they are fragrant. Then, add bamboo shoot + 2 teaspoons fish sauce + 1 teaspoon salt + ½ teaspoon Maggi's stuff + a little pepper into pot and fry about 5 minutes.
- Next, put pork bone into pot too. Pour water to cover the face of pork bone and bamboo shoot. Cook until it boils. Season again to suit your flavor. Sometime, use spoon to scoop away dirty bubble to make broth more clear. Turn off the heat.
- Add more sclied scallion and coriander on face. Serving with boiled rice is amazing, especially in cold days. If you love spicy, you can add more sliced chili when eating Stewed Dried Bamboo Shoot with Pork Bone.