From many delish Vietnamese Fish Recipes, my favorite dish which I cannot miss when back home is Stewed Fish with Tomato (Cá Om Cà Chua). Serving with hot steamed rice and Vietnamese Soup is amazing.
Trust me; the combination between fish and tomato will create a fantastic flavor in your mouth. Now, why don't we start cooking one of amazing Vietnamese Fish Recipes right now?
Ingredients
- 300g fish (horse mackerel and Japanese mackerel)
- 3 red tomatoes
- Oil, fish sauce, Maggie Seasoning Powder, sugar, pepper, pork grease.
Process
- Clean well fishes, wait to get dry.
- Heat a little oil, bring fish to fry quickly in 5 – 6 minutes. Here is the important step to create one of amazing Vietnamese Fish Recipes (Tips from my mommy).
- Clean carefully tomato and cut each into 6 equal pieces. Add them with fried fish in step 2 into clay pot, season with 2 tablespoons fish sauce, 1 teaspoon oil, a little Maggie Seasoning Powder, 1 teaspoon sugar, sliced grease pork, pepper.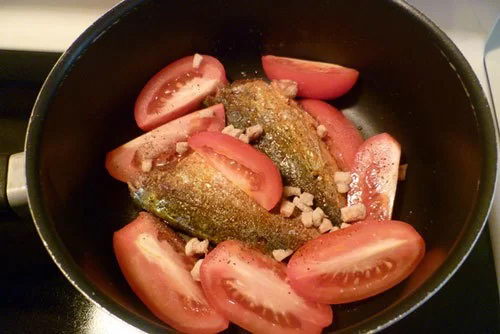 - Cook with medium heat, close the pot by lib in 20 – 30 minutes. Then, season again to suit your flavor.
Finally, you already finished Stewed Fish with Tomato Recipe (Cá Om Cà Chua) with me and my talent mommy. How do you feel? It is really easy and looks yummy, right? Hope you will satisfy with this recipe and good luck for your cooking.