(Sườn Non Hầm Đậu Hà Lan) - Stewed Pork Chop with Green Bean. The great combination between many healthy beans such as lotus seeds, green bean and carrot, pork chop will create a fantastic song in your mouth.
Stewed Pork Chop with Green Bean is not only delicious, but also quite good for your health. Carrot contains Vitamin E which is really necessary for your eyes. And lotus seeds will help you to prevent many diseases, one of them is increase the necessary blood for women.
Ingredients
- 600g pork chop
- 200g fresh lotus seeds
- 100g green beans
- 1 carrot
- Ketchup
- Salt, Pork/chicken broth mix, vegetable oil, garlic, coriander, purple onion
- Sticky rice or Bánh Mì.
Process
- Clean pork chop and soak into hot water in 3 – 4 minutes. Next, clean again with fresh water.
- Pour pork chop into bowl, add more 1 tablespoon ketchup + ½ teaspoon salt + ½ teaspoon minced garlic. Mix well and wait in 2 hours.
- Clean carefully lotus seeds and green bean. Make sure you already remove all cores from lotus seeds. If not, it will create a bitter flavor for your food. Peel off the cover of carrot, clean and slice into short pieces.
- Heat the oil (2 – 3 teaspoons), add more minced garlic and sliced purple onion, fry until they are fragrant. Next, add more pork chops into pot and fry in 5 – 7 minutes.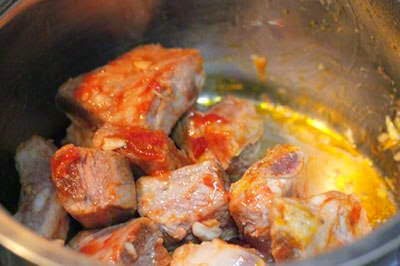 - Then, add more 3 – 4 bowls water or coconut juice into pot. Cook until it boils and add more lotus seeds.
- Cook more 30 minutes and then add more 2 tablespoons ketchup + 1 teaspoon salt into pot and continue to cook until pork chop is soft.
- Next, add more sliced carrot + green bean into pot. Cook until all ingredients are soft and season again to suit your flavor.
- Finally, your dish is ready to serve. Turn off the heat and add more sliced coriander on face of Stewed Pork Chop with Green Bean.