(Đậu Hũ Om Dưa Chua) - Stewed Tofu with Salty Vegetables. It is combined with sour and spicy sauce which will help to increase the specific flavor in your mouth.
With a little change from normal ingredients like tofu and salty vegetables, you can create one of stunning Vietnamese Cuisine.
Ingredients
- 1 – 2 slices tofu
- 200g grinded pork
- 200g salty vegetable (Dưa chua) – Buy at Vietnamese markets
- 1 tablespoon Korean Chili Sauce
- Salt, sugar, fish sauce, purple onion, spring onion
Process
- Marinate grinded pork with 1 teaspoon salt, a little pepper and minced purple onion. Mix well and wait in 10 – 20 minutes.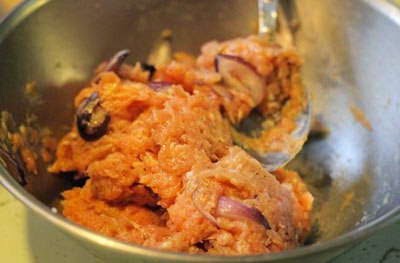 - Cut off the leaves of salty vegetables. Slice small and wash many times with water.
- Clean and slice tofu into small cubes.
- Heat the oil (2 – 3 teaspoons), add minced purple onion and fry until it is fragrant. Next, add more grinded pork in step 1 and fry quickly in 5 – 7 minutes. Here is also the first step to create the flavor for one of stunning Vietnamese Food Culture.
- Then, add more sliced tofu and Korean chili sauce into pot, shake gently and well, continue to cook and remember to cover the pot.
- Cook about 10 minutes, open the lid, season with a little fish sauce and sugar. Next, continue to cook with small heat until it boils.
- Continue to add more sliced salty vegetable into pot. If water is nearly run out, add more hot water. Continue to stew more 25 – 30 minutes.
- Finally, season the last time to suit your flavor and turn off the heat. Sprinkle more sliced spring onion and pepper to increase Stewed Tofu with Salty Vegetables flavor.