(Thịt Bò Xào Sả) - Beef with Minced Lemongrass. The combination between lemongrass and beef will create a fantastic feeling when eating. To make one delicious meal, you should choose a good quality for beef meat.
Ingredients
- 300g beef meat
- 3 tablespoons minced lemongrass
- ½ onion
- Chili, garlic, salt, oyster oil, Magi's stuff, pepper.
Process
- Slice beef thinly. Marinate with 1 teaspoon salt + a little oyster oil + pepper. Mix well and wait in 15 minutes.
- Peel off the cover of onion, slice thinly. Clean chili and slice small.
-Heat 3 teaspoons oil, add minced garlic and fry until it is fragrant. Next, add more minced lemongrass + chili into pan, fry quickly in 5 – 7 minutes.
- Next, add more sliced onion and fry in 2 minutes or until it is cooked.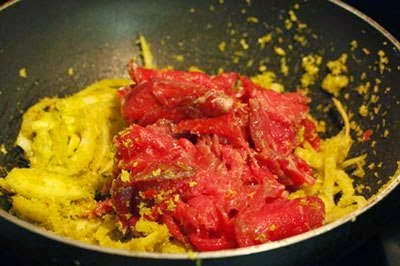 - Then, add sliced beef and fry in large heat. Season to suit your flavor; you can use fish sauce instead of salt for making this food.
- Finally, you finished one of amazing
Vietnamese Cuisine
for all members in your family. Eating when
Stir-fried Beef with Minced Lemongrass
is hot with soup and boiled rice is perfect.