(Gà Xào Lá Lốt) - Stir-fried Chicken with Lolot Pepper Leaves comes from many amazing Vietnamese Cuisine. The combination between chicken and lolot pepper leaves is really stunning.
Ingredients
- 3 – 4 chicken thighs
- 8 – 10 lolot pepper leaves
- Purple onion, pepper, salt, fish sauce, Magi's tuff, garlic, chili powder
Process
- Clean chicken thighs, slice into medium pieces. Marinate with minced purple onion + 1 teaspoon salt + a little pepper + 1 teaspoon fish sauce + 1 teaspoon sugar, mix well and wait 2 – 3 hours.
- Clean lolot pepper leaves, slice small.
- Heat the oil (2 – 3 teaspoons), fry chicken until they turn brown yellow.
- After that, put them on plate added paper napkin to absorb wasted oil. Use that pan again, heat the oil and fry garlic until it is fragrant. Next, add more 2 teaspoons fish sauce, a little chili powder, 1 teaspoon sugar and a little water. Cook until it boils.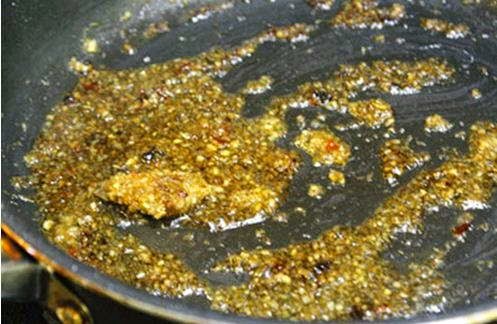 - Then, add fried chicken into pan, fry well until the mixture in step 4 stick around meat, season again to suit your flavor. Add more sliced lolot pepper leaves and quickly stir in 1 – 2 minutes and turn off the heat.
- Finally, your dish is already served. You should use Stir-fried Chicken with Lolot Pepper Leaves when it is hot.