(Mì Xào thịt Bò) - Stir-fried Egg Noodle with Beef comes from many delicious Vietnamese Cuisine is my first choice today.
A little change with noodle and beef with create a fantastic flavor in your mouth. Moreover, it is quite easy for cooking.
Ingredients
- 100 – 150g dried egg noodle (you should choose fresh noodle, it is more delicious)
- 150g beef
- ½ carrot
- 150g green cabbage
- 2 teaspoons minced garlic
- Spices, vegetable oil
- Making sauce: 1 tablespoon oyster oil, 1 tablespoon soya sauce, ½ tablespoon black soya sauce (thicker than soya sauce), ½ teaspoon sesame oil
Process
- Soak egg noodle in hot water about 1 minute, wash immediately in cold water and wait to get dry. Clean and slice thinly beef, marinate with spices, vegetable oil and wait in 15 minutes. Peel off the cover of carrot, clean and slice thinly. Clean green cabbage and slice into medium pieces.
- Heat the oil (2 – 3 teaspoons), add minced garlic and fry until it is fragrant. Next, add more sliced beef and fry quickly in 3 – 4 minutes. Then, pour into plate. Use this pan again, add sliced carrot and green cabbage into pan and fry quickly, season with a little salt, fry until it is nearly cooked; turn off the heat and pour on plate too.
- Continue, add more 1 tablespoon oil and 2 teaspoons minced garlic into that pan, fry until it is fragrant, add all egg noodle and fry in 1 minute. Pour all sauce into pan added egg noodle, and fry more few minutes to absorb all spices. Next, add fried beef, vegetables and mix well. Season again to suit your flavor and fry more 2 – 3 minutes before turn off the heat.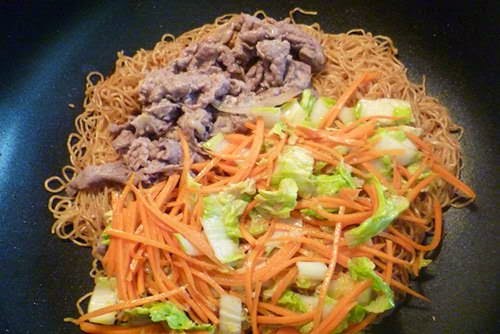 - Sprinkle more pepper on face of Stir-fried Egg Noodle with Beef is my favorite choice.
- If you love spicy, you can add more chili or chili sauce when eating.