(Đậu Phụ Xào Măng) - Stir-fried Tofu with Bamboo Shoot is not only tasty, but also really eye-catching and healthy.
Ingredients
- 1 -2 slices of tofu
- 150g fresh bamboo shoot
- 100g dried bamboo shoot
- Some shiitake mushrooms
- Coriander, purple onion, fish sauce, salt, Magi's stuff
- Annatto seed oil
- Spring onion, parsley.
Process
- Soak shiitake mushrooms, clean and cut off the roots, slice into small pieces (2cm).
- Fry tofu until it turns yellow. Slice into small pieces.
- Peel off the harsh part of fresh bamboo shoot, boil in 5 – 7 minutes, then wash again in fresh water and wait to dry.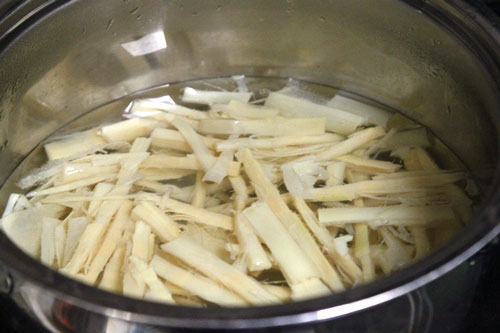 - Soak dried bamboo shoot in hot water in 2 – 3 times, wash in fresh water to clean all dirties.
- Heat the annatto seed oil (2- 3 teaspoons), add minced purple onion and fry until it is fragrant.
- Pour all mushroom, dried and fresh bamboo shoot into pan and fry in 5 – 7 minutes. Season with 2 teaspoons fish sauce, ½ teaspoon Magi's stuff, a little salt and stir well. Then, add more fried tofu and fry until it is absorb all spices.
- Add more sliced spring onion, coriander and pepper on face of food. Eat Stir-fried Tofu with Bamboo Shoot with boiled rice and hot soup is favorite choice.