(Dâu Tây Trộn Kem Bơ) - Strawberry with Butter Cream not only looks lovely, but also get stunning flavor in your mouth.
This is such an amazing dessert for you on special night. I bet your kids will be excited about it.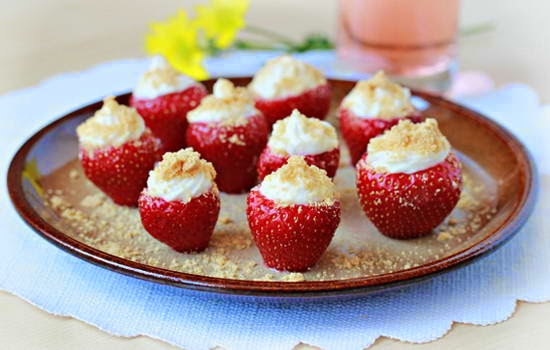 Ingredients
- Fresh strawberry: 300 – 400gr
- Fresh milk cream: 300gr
- White sugar (depend)
- Chocolate, melted: 50gr
Process
- Clean strawberry in 2 – 3 times, wait to dry.
- Cut off the stalks of them, make sure they can stand steady. Next, use knife to slice across 1/3 strawberries (count from top).
- Put fresh milk cream in fridge about 5 – 10 minutes. Then, pour on bowl, add more sugar (depend on your flavor) and mix well by mixing machine until this mixture becomes thick.
- Add fresh milk cream (in step 3) on 2/3 strawberries.
- Put left parts of strawberries on top. Next, decorate like photo or anything you want.