(Chè Khoai Sọ Nước Dừa) - Taro Sweet Soup and Coconut Syrup comes from many amazing Vietnamese Dessert Recipes for my beloved family.
When eating, you can feel the sweetness from this taro spread out in your mouth. Moreover, tapioca pearl can increase the flavor and make you want to eat more and more.
Ingredients
- Taro: 400gr
- Dried tapioca pearl: 20gr
- White sugar: 250gr
- Coconut milk: 200ml
Process
- Peel off the cover of taro. Clean and slice small.
- Pour 1 bowl water + sliced taro + sugar (depend on your flavor) into pot. Cook in 20 minutes with medium heat. Sometime, you use chopsticks to stir well to make sure taro will not be stuck on the bottom.
- Soak dried tapioca pearl in water until they are soft. Next, pour them + coconut milk into pot in step 2. Season with sugar to suit your flavor. Turn off the heat.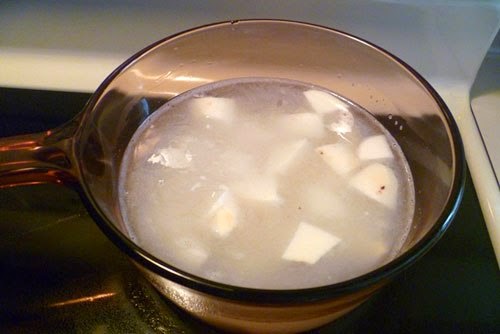 - Finally, your dish is ready to serve. Sprinkle a little roasted peanut or sesame on face can increase the flavor of Taro Sweet Soup and Coconut Syrup.