(Canh Rau Củ) - Vegetables Soup originally comes from many amazing Vietnamese Cuisine. Eating with hot boiled rice is always a good choice in Vietnamse family meals.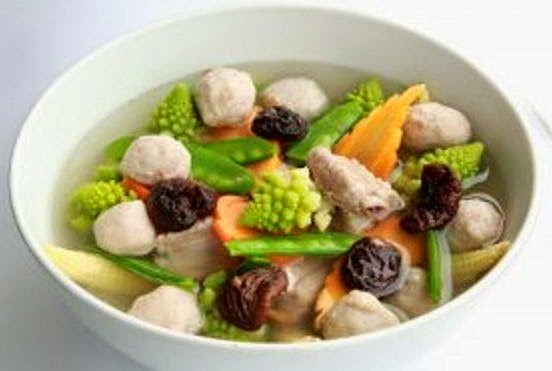 Ingredients
- 300gr grinded pork or chopped pork
- 1 – 2 Carrot, 100gr shiitake mushroom, 100gr broccoli and 1 onion.
- Spices: salt, pepper, fish sauce, sugar.
- A pinch of Coriander.
Process
- Clean carefully shiitake mushroom, soak into cold water about 10 minutes. Next, cut off the roots.
- Peel off the cover of carrot and onion. Clean them with broccoli and slice into short pieces.
- Marinate grinded pork with a little salt + pepper + sugar. Wait about 15 minutes. If you use chopped pork, you should clean it in water added a little salt, then bring to cook with water to have broth.
- Boil the water. Then, add carrot into pot. Cook until it is soft, quickly add more other vegetables into pot. Use spoon to scoop each mixture grined pork. Wait to boil again, season with salt + fish sauce + sugar, taste to suit your flavor.
- Finally, Vegetables Soup is ready bring to serve. When eating, you can sprinkle a little pepper on face to increase its flavor in your mouth.