(Bún Bì) - Pork Skin and Roasted Rice comes from many delicious Vietnamese Noodle Recipes. It is quite strange for some people, but trust me; its flavor is really tasty.
With pork skin and roasted rice (Bì), you can combine with Bánh Mì (bread) or vermicelli or broken rice is all a great choice. One colorful vermicelli bowl with many colorful ingredients not only helps you have a good appetite, but also is really eye-catching.
Ingredients
- Making pork skin (Bì): 500g
- Pork meat (no grease), 300g sliced fresh pork skin(Bì), - Fish sauce, garlic, sugar, chili, pork broth mix, pepper.
- Making roasted rice (Thính): ½ bowl sticky rice
- Making dipping sauce: Fish sauce, sugar, vinegar/lemon, water
- Salad, 1 carrot, 1 cucumber, basil leaves
- Roasted peanut, dried purple onion.
Process
- Clean carefully sliced skin pork and soak in hot water about 7 – 10 minutes. Next, continue to use lid to cover the pot. Wait until water is cold, put sliced skin pork out and soak immediately in cold water. If it is still big, use knife to slice thinly.
- Clean pork meat, slice in half if it is big. Marinate with minced garlic, 2 tablespoons fish sauce, 2 tablespoons sugar, 1 teaspoon salt, a little pepper and 1 teaspoon pork broth mix. If you love spicy, you can add more sliced chili and wait in 3 – 4 hours.
- Heat the oil (2 – 4 teaspoons), add sliced pork meat and fry until it turns brown yellow and the sauce is nearly ran out. Add more water and continue to cook until pork meat is cooked. Wait to cold and use your hands to tear small.
- Making grinded rice (Thính): Clean carefully sticky rice in 2 – 3 times. Bring to roast until rice spreads out flavor and turns brown yellow. Use grinder machine to grind it well.
- Mix grinded rice in step 4 with sliced skin pork and sliced pork meat together in big bowl.
- Clean well salad and other vegetables. Wait to dry.
- Peel off the cover of carrot. Clean and slice thinly. Pour them into bowl, add more ¼ teaspoon salt + 1 teaspoon vinegar; mix well and wait in 15 minutes. Next, use your hands to press out all water from sliced carrot. Clean cucumber, cut in half, throw away seeds and slice thinly.
- Making dipping sauce: Mix 3 tablespoons water + 3 tablespoons sugar well. Bring to cook until all sugar is melted. Next, turn off the heat; add more 2 tablespoons fish sauce and a little vinegar or lemon juice, season to suit your flavor.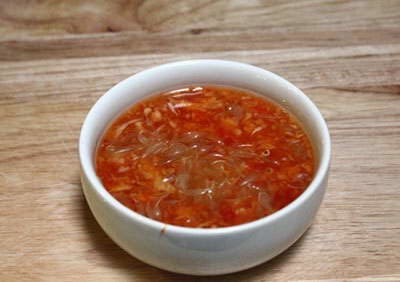 - Add all vegetables on the bottom of bowl, next, add vermicelli and use chopsticks to put more sliced pork skin with roasted rice (Bì) on face of food. Sprinkle roasted peanut, dried purple onion, sliced carrot, cucumber.
- Serve Vermicelli with Pork Skin and Roasted Rice with dipping sauce. It is really amazing.