(Gà nấu Ra-gu) - Vietnamese Chicken Ragout. The natural sweetness from chicken meat is cooked with carrots, potatoes and green peas will create a spectacular flavor for your meal. Moreover, you can use with bread instead of rice, it is still good.
Ingredients
- chicken: 1 small (it depends on your members in family)
- carrots: 2 -3
- potatoes: 2
- green peas: ¼ bowl
- 1 small pack curry flour
- Fish sauce, salt, pepper, sugar, garlic, onion, spring onion
- Ketchup: 3 teaspoons
- Corn flour: 2 teaspoons
- Rice/bread (Optional)
Process
- Slice chicken into medium pieces. Marinade with 1 teaspoon fish sauce, salt, sugar, pepper, curry flour and sliced spring onion. Wait about 2 to 3 hours.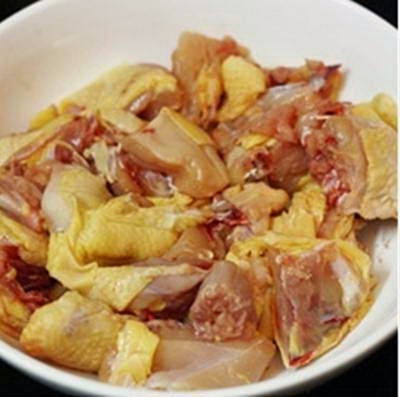 - Sliced carrots and potatoes into medium pieces. Peel off the cover of onion and slice.
- Boil green peas about 5 minutes then pour into bowl.
- Stir 2 teaspoons corn flour with 3 tablespoons cold water.
- Fry sliced spring onion and minced garlic about 3 minutes and put chicken meat into pan. Fry until 2 faces get yellow color. This is an important step in cooking one of delicious
Vietnamese Chicken recipes
.
- Pour more cold water into pan, and cover tightly. Simmer about 20 to 25 minutes. Then, add more little fish sauce, salt, sugar and ketchup.
- After that, add more sliced carrots, potatoes and green peas into pan, cook in small heat (Really important). And taste it again to suit with your flavor.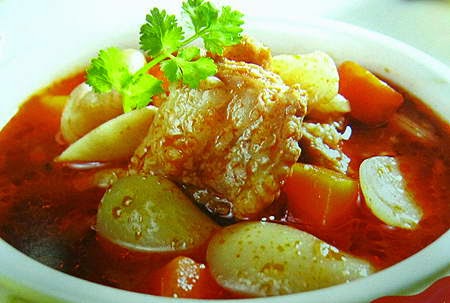 - Final step of
Chicken Ragout
, one of amazing V
ietnamese Chicken recipes
is adding more sliced onion and pour the mixture of corn four into pan to make the soup water thickly. Turn off the heat; add little minced pepper on the face of dish.
- You can use
Vietnamese Chicken Ragout
with bread or boiled rice. It still can bring a spectacular flavor.