(Bánh Coóng) - Cong Cake. It came from Soc Trang province. However, now it is more popular and appears around streets of Vietnam, especially in Ho Chi Minh City.
When you have a BBQ party, this dish is one of delicious Vietnamese Dish recipes which you should choose to make on your list dish.
Cong Cake usually uses with Vietnamese Steamed Rice Pancake Rolls (Banh Cuon). But, with gourmets, they always want to eat only Cong Cakes. It will create a stunning flavor in their mouth. Using with vegetable and dipping fish sauce in rainy days is never better.
Ingredients
- Mung bean (green bean): 100gr (Which no cover)
- Rice flour: 200gr
- Wheat flour: 50gr
- Shrimps: 200gr
- Water: 250cc
- Salt: ½ tsp
- Sugar: 1 tblsp
- 1 whole onion.
- Cong patterns.
Process
- Soak Mung bean (green bean) in water about 2 – 3 hours, next steam until it is cooked.
- Rice flour + wheat flour mix with water, stir frequently if you do not make it curdle. Add more salt + sugar and continue stir about 10 minutes. Please make this step correctly, because it is the main step to create one of delicious Vietnamese dish recipes.
- Peel off the cover of onion, mince it. Clean shrimps. Cut the heads. Next, add minced onion and shrimps and mung bean into mixture flour. Keep some shrimps if you want to add on the face of cakes.
- Boil oil, put all Cong patterns into oil to make they hot. Then, pour mixture flour into each pattern, and put into pan again to fry it. You can add more shrimps on the face of cakes when it is nearly done. Fry more about 3 minutes.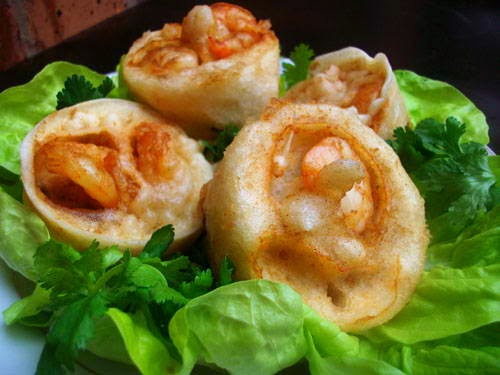 - Making Dipping Fish Sauce: You can follow at Easy Vietnamese Recipes to know the way to make its sauce.
- When using Cong Cake, you can serve with steamed rice pancake rolls, boiled bean sprout, vegetable (salad, basil, hear leaf) and dipping fish sauce.