(Lưỡi Lợn Nấu Ragu) - Vietnamese Pork Tongue Ragout. We usually use green bean, potato and carrot in cooking ragout. Serving with Bánh Mì (Bread) or boiled rice is all delicious.
Ingredients
- 1 big pork tongue
- 150g dried lotus seeds
- 1 carrot
- 1 tomato
- 1 tablespoon tapioca starch
- Salt, fish sauce, pepper, garlic, spring onion, sugar, ketchup
Process
- Clean well pork tongue, soak in hot water in 2 – 3 minutes to reduce all dirties. Use knife to shave all dirties on its skin. Clean again and slice small.
- Peel off the cover of carrot, clean and slice into circle shapes.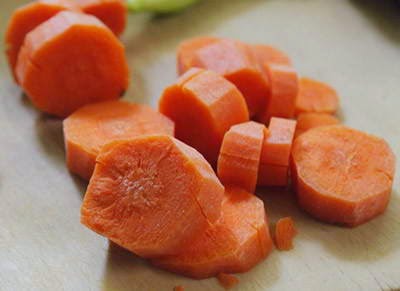 - Clean dried lotus seeds, soak in hot water about 10 minutes. Do no throw away this water.
- Clean tomato, mince well; do not use seeds.
- Heat 3 teaspoons oil, add sliced white part of spring onion and minced garlic, fry until they are fragrant. Next, add more sliced tomatoes and fry until it is soft.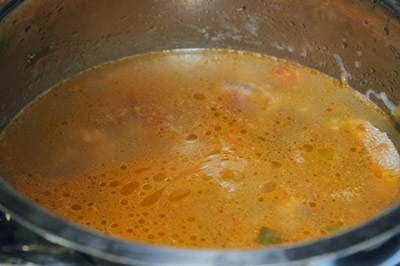 - Next, add more sliced carrot, lotus seeds and 2 bowls of lotus seed water, cook with small heat until they are soft.
- Mix tapioca starch with 2 tablespoons water well. Pour slowly into pot. You should not stop stirring when pouring. Pour until the mixture sauce becomes thick, season again to suit your flavor.
- Finally, Vietnamese Pork Tongue Ragou is basically done. Turn off the heat, scoop into bowl, sprinkle more pepper on face of food.