(Canh bắp cải cuấn thịt) - Vegetarian cabbage rolls soup. I have eaten this dish already. And I was extremely expressive with the flavor of it.
Ingredients
- 200g pork vegetarian (which made from dry tofu paper, you can buy it in Vegetarian food stores)
- 5 cabbages
- 5 piece of white tofu
- 10 stalks of green onion
- 50gr black fungus
- 50gr Chinese Vermicelli
- 2 teaspoons seasoning seeds
- 1/2 teaspoon salt
- 1 teaspoon pepper
- Pinch of cilantro.
Process
- Preparation before cooking is very important to cook one of delicious Vietnamese Recipes Vegetarian like this dish.
- Pork vegetarian soaked until soft, tear them in small pieces.
- Soak Chinese Vermicelli in cold water about 10 minutes, then use scissors cut into short pieces.
- Add white tofu into thin towel and squeeze until dry. Mix the pork vegetarian and tofu, taste seasonings, salt, sliced black fungus, Chinese vermicelli and pepper in to the mixture.
-Boiled cabbage leaves, cut in squares. Dip scallions in boiling water, pick them up immediately.
- Spread cabbage leaf in slanted, add pork vegetarian and tofu on cabbage leaf and roll together, use scallions to tight the cabbage rolls.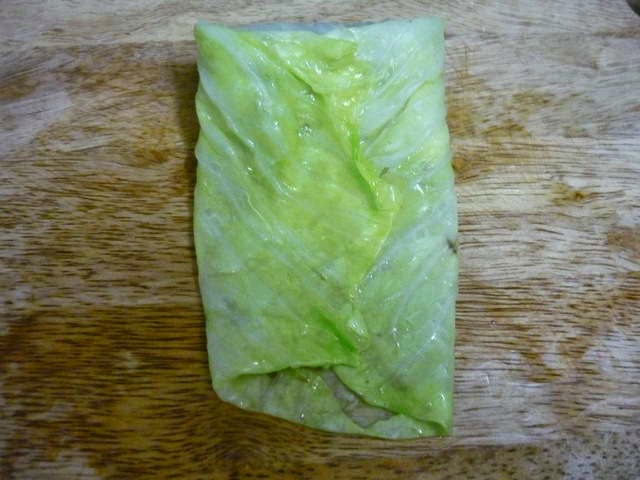 - Boil 1 liter of water in pot. Add the cabbage rolls on pot, taste seasonings, and salt. After 10 minutes, turn off the stove.
- Ladle the cabbage soup into bowl, sprinkle pepper, cilantro coriander on top of the bowl.
Cabbages should be boiled for longer cooking time. Use vegetable broth (tunnel from beets, carrots ...,) soup will taste better.